WELCOME TO THE COURSE!
Secrets
by Julie Bondanza, Ph.D.
COURSE DESCRIPTION
"Secret keeping is not a black and white issue."


This short course gives four examples of secrets and how they affect and interact with life. Secret keeping is not a black and white issue. Sometimes secrets have a very damaging effect. On the other hand, secrets connected to the mystery of being are necessary. Thinking about our own secrets can be very illuminating.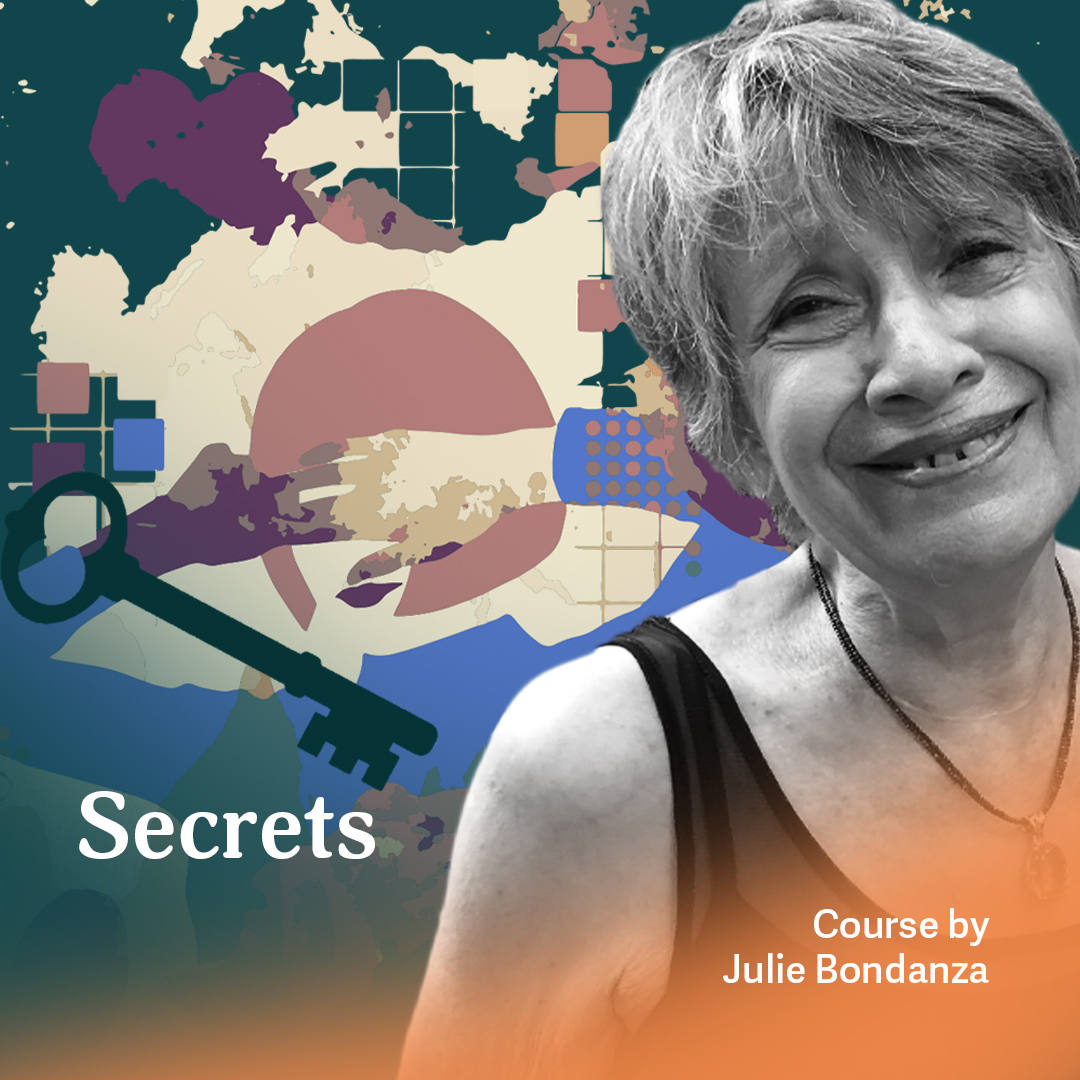 Julie Bondanza, Ph.D.


Julie Bondanza is a licensed psychologist and a diplomate Jungian analyst who trained at the C.G. Jung Institute of New York, where she was Director of Training, a job she also held with the Philadelphia Association of Jungian Analysts. She has taught extensively in New York, Philadelphia, Pittsburgh, and Washington, as well as for various Jung societies across the country. Presently she serves the board of the C.G. Jung Foundation of New York and continues to serve as its program chair, a post she has held for many years. Dr. Bondanza practices in Takoma Park and lives in Washington, D.C.
Who is it for


>>
For people interested in different aspects of secrets
>>
For therapists who work with people's hidden stories
>>
For people who want to explore their own secrets
Available in days

days after you enroll

Welcome!
Available in days

days after you enroll

Playground
Available in days

days after you enroll

Final Thoughts
What do people have to say




ANNE WARREN, PROGRAM PARTICIPANT
"...an impressive knowledge of myth and literature "
Julie brings to all of her courses an impressive knowledge of myth and literature and of our journey toward wholeness. Her compassion for the characters and their deepest needs, informed by her many years as a Jungian Analyst, helps us find ourselves in their stories and perhaps begin to have compassion for ourselves as well. Her candor and humor invite us all into lively conversations and a sense of community.   
PATRICK BIDIGARE, PH.D., PROGRAM PARTICIPANT
"I'm very fortunate to have participated in Julie's unique courses."
Julie uses great literature and films to explore the human condition through the lens of analytical psychology. Julie is open, blunt, accessible and irreverent; her erudition and compassion attract many deeply thoughtful and soulful people to her classes
.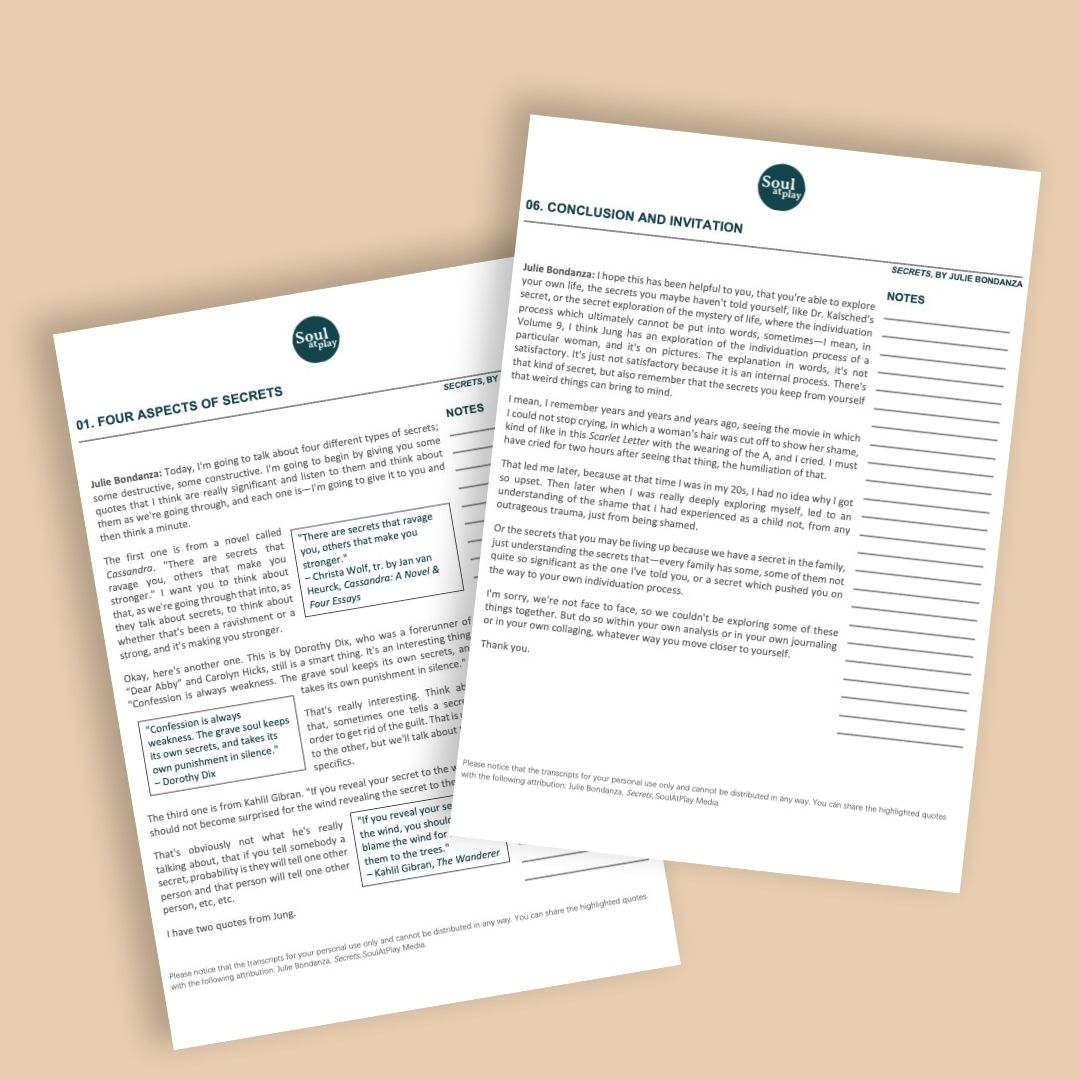 How the transcripts are helpful


We put a lot of love and effort into creating transcripts for you. The transcript makes it easier to integrate new concepts.
You can also go back and double-check the quotes and names that are mentioned.
Having the transcripts allows you to quickly add your notes of the ideas rather than transcribing the whole lesson.
Some people simply learn better by reading than by listening or watching.
FAQ


When does the course start and finish?
Once you've enrolled, you have lifetime access to the course. Work at your own pace—there is no deadline to finish.


How long do we have access to the course?
You will have lifetime access to the course.


Will we get access to the full course all at once?
Yes. Additional bonus modules and handouts may be added over time, but all of the course lessons are available upon enrollment.


What equipment/tools will we need to complete the course?
Access to a computer, an email account, and an eager and open mind! Additionally, we ask you to be curious and willing to play.


What do we do if we need help?
If you need help with something related to the course, please contact [email protected]. Thanks!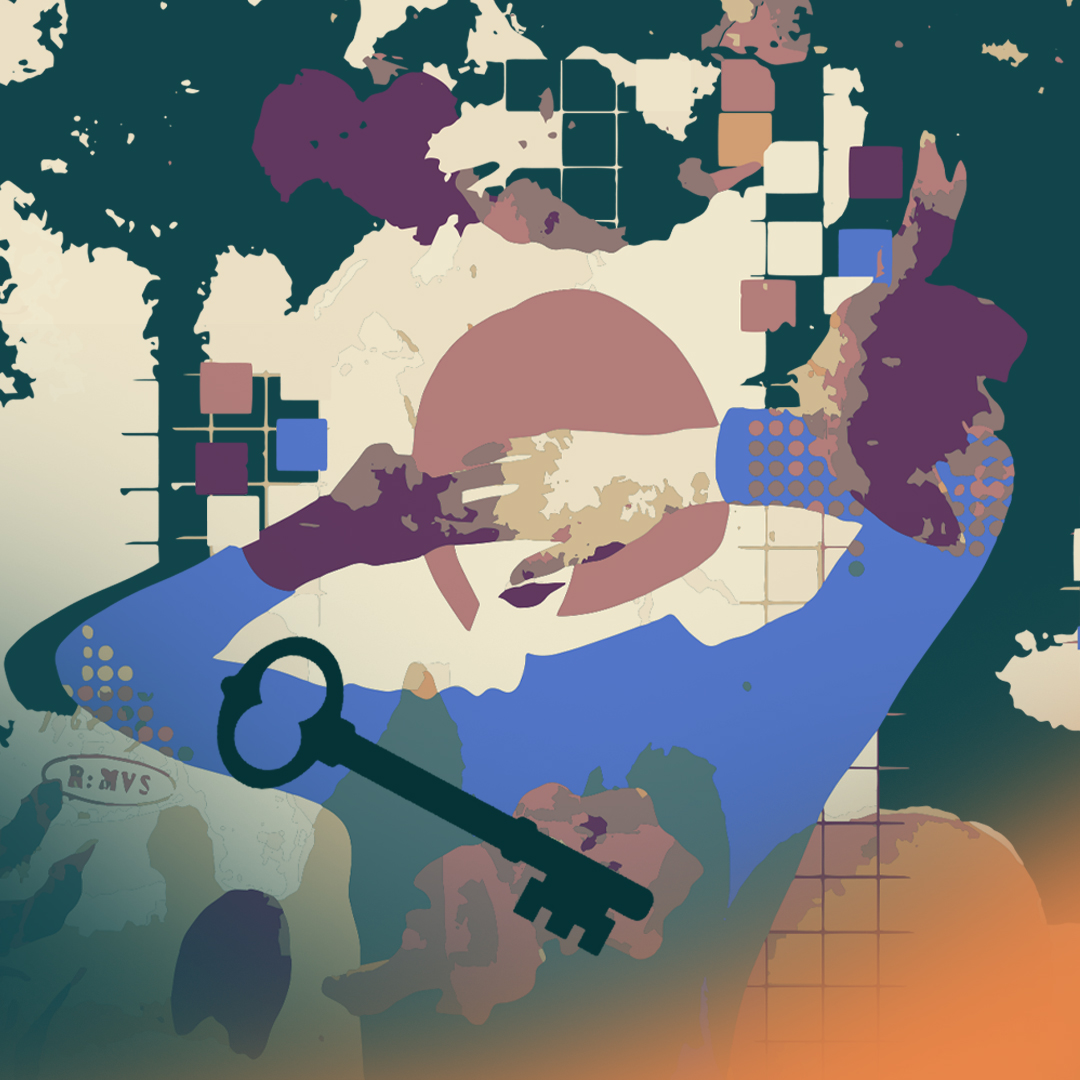 WE ARE GRATEFUL
A unique opportunity to join Secrets course.


We feel honored that Julie Bondanza has chosen to co-create this fantastic course with SoulAtPlay. This is a rare opportunity to get insight into different aspects of secrets from one of the leading Jungian analysts.
If you're ready to examine the deeper meaning of your secrets, join the course now.
CAROLYN BAIN, PH.D., PROGRAM PARTICIPANT
"...an expert guide, terrific topics, dynamic discussions."
Taking a class with Dr. Julie Bondanza is like accepting an invitation to an educational adventure you had only imagined: an expert guide, terrific topics, challenging reading assignments, dynamic discussions, and no exams! Julie pilots her students, both newcomers and veterans, into a world of self-exploration through thematic prompts drawn from literature and depth psychology. Julie creates a welcoming classroom environment, in-person or virtual, as she weaves together the significance of literature with the value of one's perceptions and explorations. She enables her students to find their comfort levels of participation. I highly recommend taking a class with Julie and reaping the rewards of an investment in lifelong learning.
MILOS RIKIC, PROGRAM PARTICIPANT
"Julie Bondanza is an outstanding teacher and intellectual."
Julie's passion for reading and literature was given a meaning with the Jungian interpretations of novels and plays that she is continuously offering. Her therapeutic practice is deeply inspired by fictional and fantasy material making her competent in understanding the intricacies of the human psyche from a metaphysical perspective. I enjoyed her classes and always had deep insights in Jungian psychology and literature.
DISCLAIMER
Enrolling in the course also adds you to receiving the SoulAtPlay newsletter. It's forever free, filled with exclusive content, and always optional. The material contained in this course is an expression of views and opinions and may be used for personal, educational purposes only. The course is not intended to be a substitute for professional medical advice, diagnosis, or treatment. Never disregard professional medical advice or delay in seeking it because of something you have read or seen in the course.
Images on this page: Frederic Leighton - The Return of Persephone (1891), Public Domain, Kali lithograph, Public Domain, Venus von Willendorf, Public Domain, Unsplash free images